24 juin 2010
4
24
/

06
/

juin
/

2010
14:19
Is there any honour in killing for 'honour'?
Voici quelques réponses des lecteurs du Times of India qui ont répondu oui à la question posée.
Yes, I do feel that there is honour in most of such cases.we today on the name of rights and equality are always ready to fight on even a minute issues(though this issue doesnt seem to be minute) which apparently crub our freedom without taking time to look into the issue in detail.the ever rising cases of marriages against the will of families have always brought disgrace and shame, for the families of victims, within the society. we do not try to understand the misery of their entire lives and just critisize. there does seem to be honour in opposing such incidences but not to support violence for it.I do think that these violences take place when all other options are closed also the law being against such families which leaves them with only one option.also supporting such marriages may increase the chanses of traping girls in false love and then marrying them to ruin their entire lives(Such cases have also been common in past, and there are such criminal groups who work to trap young girls in false love and force them to leave all their customs, adapt new and then finally desert such girls leaving them of nowhere). Considering above reasons I do feel there is honour in fighting for the prestiege of ones family.
If killing a terrorist, who is a threat to my nation, is an honour then killing somebody who is a threat to my household, my morals and family values is also an honour and that too when we can not have any confidence on the law and order system. So many criminals get scott free just for lack of evidence to further continue spreading menace in the society. Nobody, including media, doesn't question them and they are instrumental in so many crimes happening in and around Delhi.
it depends entirely on family they belong to.no one individual, person could defy the family name.It's quite unacceptable under certain norms.so if u enjoy the name, better respect it.
The youngster needs protective environment from Indian parents but with western freedom, amalgamation of both is not possible.We ,Indian, provides protection because we have coherent family system, whose basic constitutes are societies, culture, even costs systems. We are progressive towards better education, due to this protection. Of course, this devotional attitude leads to possessive attitude. A parent gives their full life for the betterment of their children and you are leaving them just for lust. That is age of lust, no emotion or love. The big culprits are media, which are distorting the social values by eroding the anti-social attitude of young generation.Yes, there are many unanswered questions, which need to be discussed and answered.It's prevails in every society. The death may be too hard decision but amalgamation of societies are not acceptable in any case.
When the foundations of a Society collapse, everything from A to Z, will fall down like a pack of cards. To prevent this, even if we have to make a few sacrifices to protect this Edifice we should be bound for that.
Though killing is wrong but the children breaking the norms of the society and culture is totally wrong. The culture and tradition should be followed else we will become the archaic society west is today...
I think it is in honour of parents to curb the nasty bud before it becomes a poisoned flower for society.... These love marriages are not luv marriages but lust and infatuation which in 99% of the cases ends up in destroying the life of the girl involved in this. We are destroying are culture by our own hands. What we are following is west, their wife-swapping, one night stands, girlfriend-boyfriend culture, prom sex parties, etc... The people advocating against these honour killing acts will also have to see their daughter or sister on a porn sites very soon becoz this will going to happen very soon as is taking place in western countries where no relation has been left untouched by this dirt. I myself have seen many girls destroyed by this false love affairs and thus either ending up their life or married to some gullible person.. Why the gullibles or nice people pay the price for fun which somebody else enjoyed...
When children do something great, should the parents be proud of it or not. If they do wrong are not they are dis-honoured? As far as 21st century is concerned, its the most dangerous of all the centuries. Just look around and see. Please try to understand freedom. Nothing is free in this world, like it or not. You are free to do anything as long as you don't influence anybody. If you start influencing, u come under surveillance. Indian people(mostly) does not have any pride in themselves and accepts westerner as their idols. WHAT A LIFE WITHOUT PRIDE & HONOR. ITS JUST DON'T WORTH LIVING.
This is not a killing or murder this is a punishment of breaking the rule of society.
On estime qu'il y a environ 5000 crimes d'honneur commis chaque année en Inde.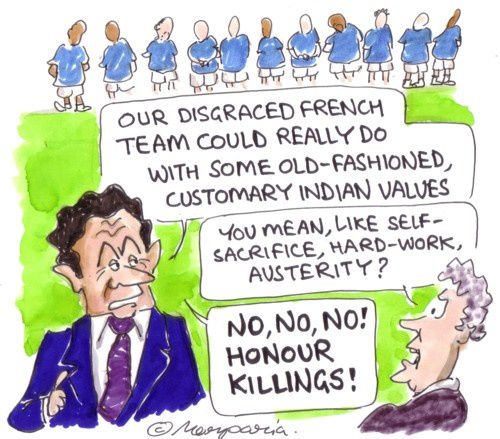 Dessin de notre ami Hemant Morparia.