7 juin 2011
2
07
/

06
/

juin
/

2011
05:35

Le coiffeur Jean-Claude Biguine est implanté en Inde depuis 3 ans. Un coiffeur français peut-il réussir en Inde et ce type d'expertise s'exporte-t-elle? Le cas de Jean-Claude Biguine est d'autant plus intéressant que d'autres coiffeurs français ont tenté dans le passé de s'implanter ici mais sans succès pour Franck Provost et avec un seul salon pour Dessange à Delhi. En Inde, les salons Jean-Claude Biguine reprennent le concept Biguine international de "Maison de beauté" avec la coiffure et le spa (massage, manucure, pédicure, soin du visage et du corps). On ne peut que saluer cette implantation de cette marque française, même si dans ce cas on nous reprochera de faire un peu de cheveu-nisme !
Nous sommes donc allés interviewer Dharmendra Manwani le responsable de Jean-Claude Biguine en Inde.
Can you tell us where this idea to launch Jean-Claude Biguine in India came from? Who got this idea?
When we took over this project to identify the markets for beauty, BRIC nations emerged as the countries with untapped potential in this space. The growth figures specifically in India were quite encouraging (beauty industry growing at the rate of 30% annually) for an organized chain of salon and spa to explore the market. It came across more as a challenge to consolidate the fragmented Indian market and to establish a brand which will lead in organizing this industry.
With the trends like rising purchasing power and discerning Indian consumers, who are well travelled and are exposed to International trends and fashion, it became quite imperative to fill the need gap of a one-stop beauty destination with luxurious experiences accessible at premium price-points. Now, it's been over 3 years and we have successfully launched 5 salons in Mumbai and 1 in Bangalore and have further aggressive expansion plans.
Jean-Claude Biguine is a subsidiary of the French company or a franchise?
Jean-Claude Biguine India is an independent set up with master licence from Jean-Claude Biguine Paris and works very closely with them.
We were told that the business is expanding? How many salons do you have now?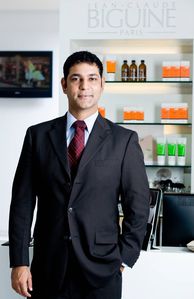 Jean-Claude Biguine currently has 6 outlets in India (5 Mumbai and 1 Bangalore) and has future expansion plans too. In Mumbai, Jean-Claude Biguine has its flagship salon located in Bandra, spread across 5000 sq ft. with three layers.
The brand also went into a strategic tie-up with Aditya Birla's retail arm called Madura Garments to be their grooming partners in their retail venture called The Collective. Through this partnership, we have one salon presence in Bangalore and one at The Palladium, Mumbai. We recently independently launched three more salons in Mumbai at Kemps Corner, Juhu and Colaba capturing the so-called platinum strip of the city.
Is it true that each salon is managed by a French hairdresser?
All our top stylists in each of our salons are expert French hairdressers. However, our salons are managed by experienced and efficient Indian professionals.
How the expertise of Jean-Claude Biguine is implemented in India? It might be different from what we know of Jean-Claude Biguine in France, because Indian people may see the hairs differently. Your offer to customers had been adapted to the local market?
Well, we do have local flavours in all our services that comes from extensive 2 years trainings of our French stylists and Indian experts before working on the floor. Our international collections are now slightly tweaked considering India and Asia at large as a market.
Our stylists make sure that they localize their expertise to suit Indian needs and they regularly get trained on the same. Some of our make-up products that are only meant for European skin do not get launched in India and hence, there will be change in the menu depending upon various regions. But otherwise, we thoroughly believe in consistency across.
How Indian customers perceive this French brand name of Jean-Claude Biguine?
The response has been overwhelming. Our flagship store in Bandra received immense response which led us to expand rapidly.
What are your plans for the future?
We received an immense response from our flagship salon in Bandra and decided to rapidly expand and cover what we call the platinum strip in Mumbai. With our successful launch of Kemps corner outlet, we went ahead to provide the need gap which exists in the salon industry by providing an organized, head-to-toe beauty destination to our western suburbans. Immediately, we will be looking at opening more salons in Mumbai and simultaneously explore Bangalore and Delhi. We plan to open 50 salons in the next 5 years and that's what we are focussing on. For the same purpose, we are exploring various avenues of partnerships, presence in luxury hotels, independent salons in high streets and other interesting collaborations which come our way.